The Cake is NOT a Lie or Nom, Nom, Nom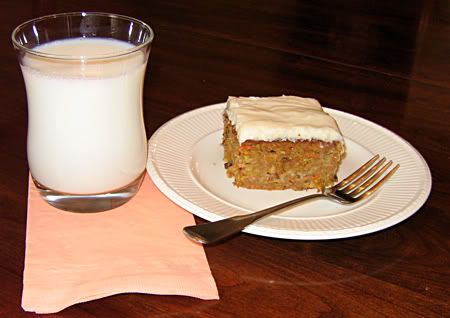 Norwegian Carrot Cake spammer man was not kidding! This cake would improve anyone's posts. Thanks are due to quick thinking Erinys of The Harpy's Nest for the translation. I never think of Google translator. I will give the recipe, but first I had a few problems with Google's take on Norwegian. I really think they might have been wrong on the title. I'm pretty sure this must be a Norwegian Army Platoon Carrot Cake.
Let me be clear, I'm not much of a cook. Left to myself I'd probably live on frozen pizzas with an occasional banana or something thrown in for good health. So I really wasn't paying much attention. Had I been a REAL cook, the 7 cups of grated carrots, 6 eggs, etc. would have alerted me to the fact that this was going to be one freaking big cake. Unfortunately I was taken by surprise and had to try to mix it in three different bowls cause I don't have anything large enough to hold all that stuff … because you know, I'm not a cook.
Another reason I'm not a cook is all the stupid pots and pans you've got to use. I hate that. I hate making a big mess and having to clean it up. My husband refers to me as the "One Pot Cook," and it's true. I try to only make things that can be made with the use of one pot.
So anyway, just warning you. This is a big mess-making cake to make. I was getting really worried that it wouldn't come out good enough to justify all the mess I made. Experienced cooks probably don't make this much mess, but just so you know … kitchen … big mess. But I have dogs so I didn't have to worry about the floor.
Also, another problem arose when I went to the store and forgot to take the recipe with me. I thought np, I'll shop from memory. ROTFLMAO! I can't even begin to believe I really thought that would work out.
So I was ready. I wanted to make it even though I'd screwed up the whole ingredients thing. I forged ahead nonetheless.
I used the recipe below with these changes.
I didn't remember the ground almonds. I hold a grudge against almonds as one broke a tooth of mine so that's probably why. So, no almonds.
Whoops! Forgot the Canola Oil. So I substituted with Olive Oil which is the only oil I did have on hand.
Substituted sugar for Sukrin.
I think I have Cardamom way in the back in the cupboard where I keep the spices but I was too lazy to look, so no Cardamom.
2 cups spelled or rye flour
Just used regular flour, if I wanted to drive to an upscale grocery store I maybe could find rye flour but I'd have to drive to another county as there's no upscale anything in my county.
Not sure what Eventuellt raisins are or what I was supposed to do with them so I just threw a whole bunch of raisins in the batter.
Note: Duh, I just thought to translate Eventuellt. Apparently it means possibly so I accidentally did the right thing throwing them in there.
I was completely flummoxed by the whole glaze direction thing. It's kinda like I am when I'm in an instance and get nervous, I get stupid and stand in bad stuff. So I decided to just make regular old cream cheese frosting to avoid a problem.
The cake is really delicious, my husband doesn't like carrot cake and even he likes it. And look at the ingredients; it's health food really. You can eat without guilt, all those carrots and apples and oatmeal!
There are so many fine benefits to be had by blogging about WoW, but this! Unbelievable! Who knew! Beneficial spam!
Oh all right, I'll come clean. There is one more ingredient in there. I don't really know the amount but I'm pretty sure there are probably some black dog hairs in it. There are black dog hairs everywhere in this house but if you don't have any I'm sure it'll still be okay or if applicable substitute cat hair. Bon Appétit!
WoW Bloggers Norwegian Army Platoon Carrot Cake
For those times when you feel your posts aren't up to snuff remember what spammer man says:
"Hrm, Not the best post unfortunately. Sorry to be so blunt! You should try some Norwegian carrot cake ( ) to cheer you up instead." — Norwegian Carrot Cake Spammer Man

Heat the oven to about 200 degrees Celsius = 392°F.
Mix the flour, ground almonds, baking powder and spices in a measuring jug or bowl. Grate the carrots and apples, chopped walnuts and apricots roughly, mash the banana.
Beat eggs and Sukrin fluffy. There will be an eggnog with Sukrin, but it will taste good anyway.
Add the oil in the egg mixture and add the flour mixture little by little so that no lumps.
Then put in the remaining ingredients and fill the mixture into a small roasting pan or a large round shape.
Cooking time will vary from stove to stove, but expect that it takes about 1 hour. You may want to check for respectively 15 and 30 minutes that no heat is too strong.
When it is cooked, take it out of the oven and loosen it from the mold. Let it cool on a wire rack. Let cake cool completely, about 30 minutes before you start with a glass texture.
Eventuellt raisins
Sukrin is brand name sugar substitute.
6 eggs
1 cup Sukrin
2 cups canola oil
2 cups spelled or rye flour
1 cup oatmeal
100 g ground almonds
1 teaspoon cinnamon
1 teaspoon ground cloves
1 teaspoon cardamom
1 teaspoon ginger, or allspice, or both
2 teaspoons baking powder
7 cups grated carrots
1 can (100 grams) walnuts
½ bag of apricots
2 mashed ripe bananas
1 grated apple
Eventuellt raisins
16 Responses to "The Cake is NOT a Lie or Nom, Nom, Nom"
Oh what I would do for a slice of this by my PC right now…

/jealous!

It is good, but it took me the whole afternoon yesterday to clean up the kitchen even with the dogs helping with the floor.

But now I have enough cake for a week or two!

The cake looks amazing, but mostly I love your description of how you cook. Deciding to shop from memory, substituting pretty much anything you feel like, maaaybe reading all the directions .. this is exactly how I cook!

We are kind of like free-style cooks!

I know, my husband always asks why my spaghetti sauce always tastes different each time. It's because each time is new! I never remember to write down what I used the last time I made it.

Mmmmm, now I want some Norwegian Carrot Cake! Thanks for the recipe, Ancient – and of course, Norwegian Carrot Cake Spammer Man!

~ Effy

I never thought there would be a benefit from blog spam but he sure proved me wrong!

Much yummier looking than the standard Spam, in a can.

~ Effy

This post made me LoL, I'm so anal when it comes to shopping. I keep a grocery list on my phone so I don't forget it. I do like the cooking shows do & get everything out that I need because I have to take a photo of it anyway. Then as I use it gets put back in the cupboard. I fill the sink up with soapy water and add dirty dishes as I make them.

I love that cooking is so versatile, it doesn't matter if you are OCD like me or a regular person like you. The cake came out good and that is all that matters.

I have a normal carrot cake recipe on The Gamer's Fridge in the Warcraft section. If you want to make an easy normal cake.

Oh good, I'll check yours out next time. I need a beginner cake.

I'm afraid I cook like I do everything else. Spontaneous, no planning, disorganized. I had so little faith that it would actually come out of the oven and be edible I didn't make the icing until I saw the whites of that carrot cake's eyes!

I kept thinking of you when I made it, now what would Niki do?

I take photos as I go so I need to have a neat environment so the pictures are clean and clear. I can't have you guys thinking,"Good Lord! How can she be baking when she clearly has been burglarized!" Haha!

Niki says,"Want to have a spotless kitchen, post photos of it on the internet. "

Lol, I guess that would be a motivator to keep your kitchen spotless. I had to take my piece of cake to another room to take a picture because the kitchen was, shall we say, in disarray!

I'm impressed you actually tried this recipe, esp since it originated from a spammer. It does look good though and I'm glad it turned out so well. I'm with the others, I wish I could try it too

The recipe seemed to make sense although I've never put that amount of oil in anything before.

I wish everyone could try it too, I certainly have enough to go around

Pls pass cake through computer screen. Thank you!!!

Totally going to try making that now. =)

It really is soooo good. I wish I could share. I've been eating a lot of it because I've convinced myself it's heath food!

It's got carrots in it, how could it NOT be healthy!!?